CG KO CIGRE
CIGRE (Conseil International des Grands Réseaux Électriques) - International Council on Large Electric Systems is one of the leading worldwide Organizations on Electric Power Systems, covering their technical, economic, organisational and regulatory aspects. As a non-governmental and non-profit International Association, based in Paris, France, CIGRE was founded in 1921 and aims to facilitate and develop the exchange of engineering knowledge and information, between engineering personnel and technical specialists in all countries as regards generation and high voltage transmission of electricity... >>
Montenegrin National Committee of International Council on Large Electric Systems - CIGRE is independent, voluntary organisation dealing with national and international professional and scientific matters in the area of production, transmission and distribution of electrical energy, manufacturing of electrical equipment and issues relating to electric power systems... >>
---
Events
​​​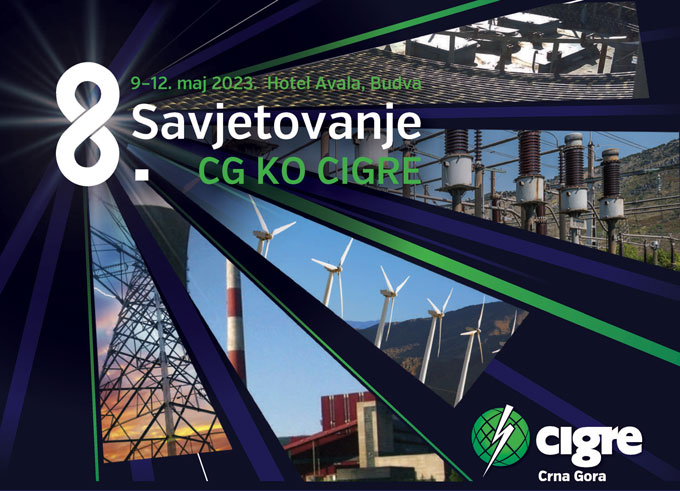 We would like to inform you that the 8th CG KO CIGRE Session will take place in hotel Avala, Budva, from May 9–12, 2023. It is our pleasure to invite you to submit your papers.
Important dates:
Abstract Submission Due – January 20, 2023
Acceptance Notification of Abstract – December 20, 2022
Full Paper Submission Due – March 1, 2023
Acceptance Noti‑cation of Paper – March 20, 2023
Preferential subjects and link to platform for abstract submission you can find on www.cigre.me/radovi .
Documents:
kompletna vijest >>>
---
It is our pleasure to invite you to take part in 7th CG KO CIGRE Session that will take place in Becici (Montenegro), from 28-30.09.2021.
kompletna vijest >>>
---